As you guys know, we
swap
clothes approx. every two weeks - it's a great way to feel like you have "new clothes" without shopping and it creates a fun challenge to try and style each other's pieces differently each time.
We usually just trade our most recent or favorite items but recently, we have been doing some themed swaps to invite some change. We both tend to gravitate towards chunky knits in the chilly temps so to add a little variety to our winter wardrobe, we decided to swap 4 blouses each, prompting us to find new ways to mix, match and layer.
1) Kaitlyn's Blue & Black Blouse: I wanted to get away from the normal a bit, so I layered the blouse over a turtleneck and under a wrap cardigan jacket. Three layers kept me warm on this cooler early December day - Lisa
2) Lisa's Plaid Sheer Blouse: Not sure if you guys know how we feel about plaid...we haven't talked about it enough on the blog so let me reiterate it once again ;) It's an obsession and I love the challenge of finding new ways to incorporate it so I paired this great blouse with one of my other print passions, anchors. I think it was a fun combination and allowed me to transition a spring-ish sweater to winter - Kaitlyn
(
source
)
3) Kaitlyn's Mustard Yellow Blouse: I actually went to pair this blouse with regular blue denim but then saw these green cords and the wheels got turning. I added some leopard wedges plus a great bag & jewelry and it was a perfect color match in my book! - Lisa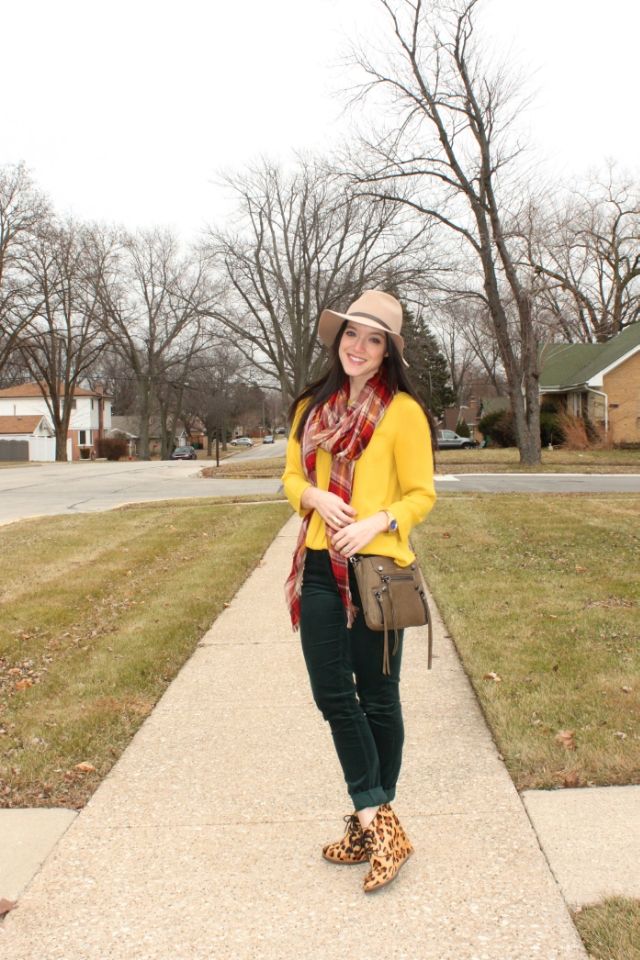 (
source
)
4) Lisa's Polka Dot Blouse:
When I see this blouse, I instantly think feminine - I envision it paired with a high-waisted skirt or jeans with a blazer and pumps so I took another route and roughed it up a bit. I am always a fan of all black with a pop of color (hello, lips!) so I paired it with distressed denim, a cozy knit beanie and plaid combat boots. By adding the statement necklace, I think it still keeps it girly and playful - Kaitlyn
Next in our swap rotation? Sweaters...Stay tuned!